If you could create the perfect product for active people of all ages, Liv Labs' Hemp Balm with Essential Oils would be the one you would want.
Reach for our fragrant powerful Liv Labs Hemp Balm when you need fast relief from the aches and pains of everyday life. Our high potency balm has 1000mg Active CBD with ZERO THC in a one-ounce container.
The CBD is strategically combined with Premium Essential Oils selected for their scientifically proven anti-inflammatory, analgesic, anti-bacterial, antifungal and antimicrobial properties. (1,2,3,4) The addition of turmeric provides even greater therapeutic possibilities. (5)
Liv Labs' Hemp Balm works in a way that is different than most other forms of CBD. Most CBD works when it hits your bloodstream and moves to various parts of your body.
However, Hemp Balm is applied directly to the skin. As such, very little of it will reach your bloodstream. This is why CBD balms are typically better for targeted, topical issues.
Instead of reaching your bloodstream, Hemp Balm causes a reaction with receptors in your skin and nearby muscles. This results in fast targeted
relief of afflicted areas.
Hemp Balm is especially effective for two broad areas of concern: Discomfort/soreness or skin conditions.
Ingredients:
Caprylic/Capric Triglyceride, Beeswax, Lavandula Angustifolia (Lavender) Oil, Citrus Limon (Lemon) Peel Oil, Camphor, Cannabis Sativa Seed Oil (and) Cannabis Sativa Flower/Leaf/Stem Extract, Rosmarinus Officinalis (Rosemary) Leaf Oil, Turmeric, Tocopherol, Eucalyptus Globulus Leaf Oil, Beta Caryophyllene, Alpha Pinine, Linalool
The benefits may include:
relief of muscle discomfort

relief of joint discomfort

reduction of inflammation

relief of certain skin irritations

relaxation
What are Liv Labs' CBD Hemp Balm benefits?
A key ingredient, cannabidiol (CBD) is a powerful antioxidant that prevents the drying of the skin, helps the healing process and strengthens the skin's natural defence system.
1. Hemp Balm for discomfort
Hemp Balm might help ease chronic discomfort in part by reducing inflammation. CBD binds with the CB2 receptors in our skin. As it doesn't reach the bloodstream, it is best used for localized aches since it doesn't offer full body pain relief. It is an ideal solution for people who have chronic discomfort
in joints or tendons.
2. Hemp Balm for psoriasis
Psoriasis is an autoimmune disorder characterized by patches of abnormal skin. Topicals infused with cannabinoids can ease psoriasis by reducing the inflammation and slow down skin cells growth.
3. Hemp Balm for dry skin
Ingredients such as Caprylic/Capric Triglyceride (MCT Oil from coconut), lavender & rosemary oil can naturally and effectively nourish and moisturize any type of skin.
4. Hemp Balm for eczema
Hemp Balm could help skin conditions like eczema by reducing inflammation and relieving dry skin. CBD can also help to soothe other symptoms related to eczemas, such as itching and pain.
5. Hemp Balm for acne
Acne is a well-known problem for adolescents, which can be effectively relieved by CBD. Studies have shown that CBD can regulate sebum production and acts against inflammation.
6. Hemp Balm for wrinkles
Hemp Balm infused with CBD may balance and stimulate oil production. Wrinkles and fine lines are more visible if the skin is dry so increased oil production can reduce their appearance.
7. Hemp Balm for bug bites, sunburn and other irritations.
The soothing effects of the CBD and essential oils can calm
itchiness, discomfort and other irritations. The balm is not
recommended for open wounds.
How to use Liv Labs' Hemp Balm with Essential Oils
Clean and dry the skin first. Apply to skin in gentle circular motions. If necessary, apply a larger amount of balm on the affected area. It is suitable for everyday use and for all types of skin.
Hemp Balm can also be effective in the care of hair and nails or used as a lip balm. There are no documented side effects when using hemp oil or CBD oil locally. Some people can be sensitive to certain essential oils. In case of hypersensitivity stop using the product.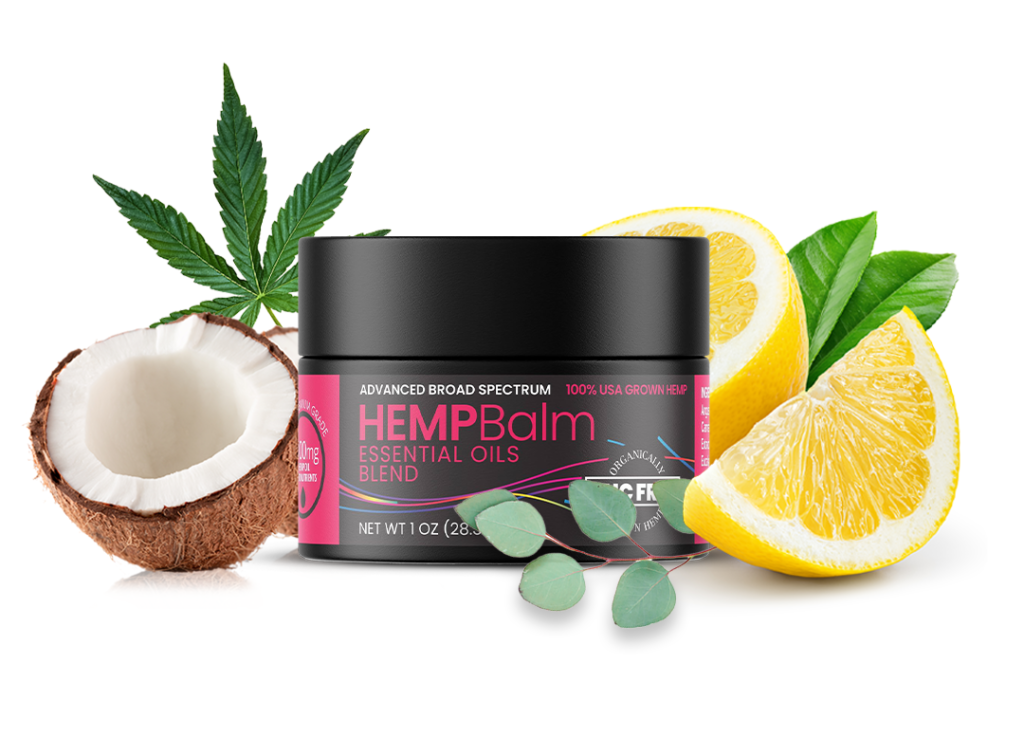 These statements have not been evaluated by the Food and Drug Administration. This product is not intended to diagnose, treat, cure or prevent any disease.This content is for informational and educational purposes only. It is not intended to provide medical advice or to take the place of medical advice or treatment from a personal physician. All viewers of this content are advised to consult their doctors or qualified health professionals regarding specific health questions. Neither Dr. O'Connor nor Liv Labs the publisher of this content takes responsibility for possible health consequences of any person or persons reading or following the information in this educational content. All viewers of this content, especially those taking prescription or over-the-counter medications, should consult their physicians before beginning any nutrition, supplement or lifestyle program.