"We have never heard of any other product like Slender Hemp! It is amazing how great we both feel after taking this delicious tasting drink in the morning. We have great energy, awesome moods and our food cravings are almost completely gone!" John & Mary D., CA
Because of the incredible efficacy of Hemp oil rich in CBD and the demand over the last few years for products containing this powerful cannabinoid the market for CBD has exploded! And the number of products addressing this demand has grown proportionately.
In this crowded market there are few unique products but that has changed with the introduction of Liv Lab's Slender Hemp!
This is a POWERHOUSE product because of the intense effect it has on an individual's health and wellness. Where do we even start!
Liv Lab's Slender Hemp provides you with 10mg of active Broad Spectrum Cannabinoids along with advanced energy, nootropic ingredients and weight wellness. This functional beverage is THC free and may help you balance your energy*. Finally, a beverage that tastes good and is good for you, too.
So to put it into perspective, it gives you the benefits of CBD, the energy you need to get through a productive day, the increase mood to deal with the stressers out there in the world and the appetite control to help you make good eating decisions and watch your weight! Whew! That's a lot!
Oh, and by the way, it TASTES GREAT!
This is what Liv Lab's Chief Science Officer, Dr. Stephen O'Connor, has to say about Slender Hemp:
Slender Hemp just got better. With the addition of the Slender Hemp Mango-Lime to the Live Labs family, a great product just got better. With twice the Caralluma Fimbriata, that is found in the original Slender Hemp, paired with the other clinically proven appetite suppressant, Garcinia Cambogia, you can look to a boost in your ability to maintain a healthy weight, while increasing your energy and supercharging your metabolism. In addition to the boost and energy, Slender Hemp allows that energy to be balanced by combining the natural energy enhancing properties of Octopamine, green coffee bean extract, L-theanine, with 10 milligrams of THC-free broad spectrum hemp oil, Live Labs has produced a powerful and healthy means of promoting a boost in metabolism without the edginess; energy without the edge.
Now, healthy glucose metabolism is enhanced using the apple cider vinegar and chromium in a bioavailable form that helps the cells work with insulin to metabolize glucose more effectively. Now, studies have shown apple cider vinegar may be a factor in other weight management processes, specifically the burning of body fat, reducing fat storage and suppressing appetite. I believe Slender Hemp Mango-Lime is an excellent addition to a well thought out wellness strategy. Why don't you try some and see if I'm right? Thank you.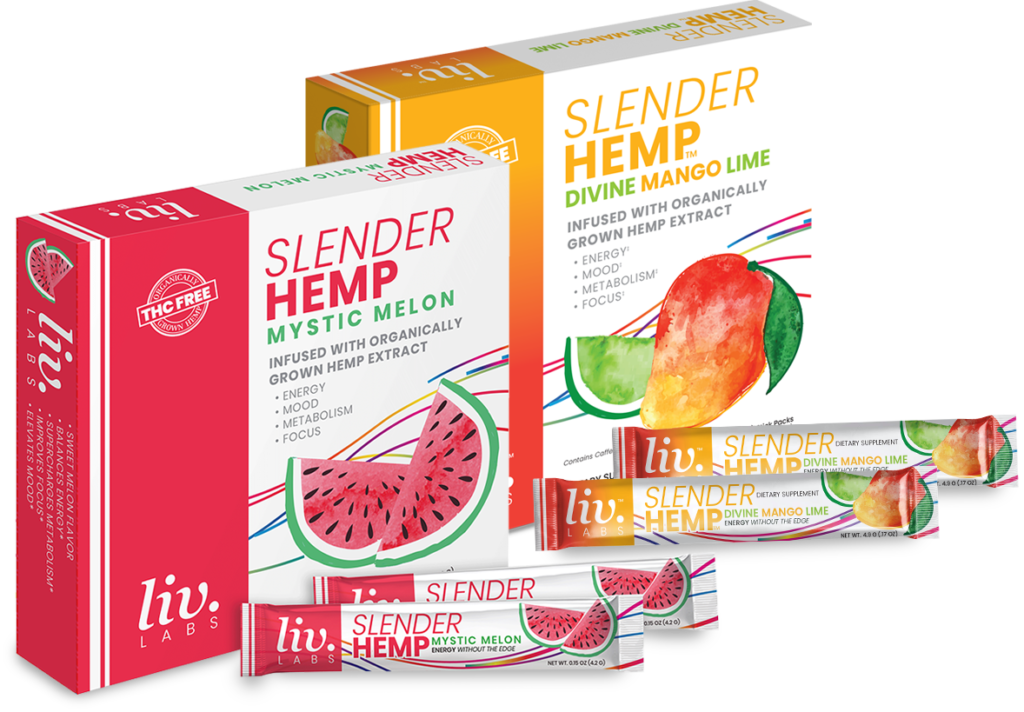 Key Ingredients:
Garcinia Cambogia – Helps boost fat burning and assists with reducing appetite.
CLA (Conjugated Linoleic Acid) – Supports metabolism and promotes fat loss.
Octopamine – Increases energy and focus while enhancing breakdown of fat cells. Aids in boosting metabolism.
Green Coffee Bean Extract – Sustained energy and helps reduce the absorption of carbohydrates.
L-Theanine – enhances mental alertness and focus with a sense of calmness.
Caralluma Fimbriata Powder – Used for centuries in India as a hunger blocker while boosting energy. Strong antioxidant properties which can assist to balance blood sugar levels.
Hemp Extract CBD – Zero THC. Helps to provide balance while creating a sense of calmness. Enhances the breakdown and oxidation of fat.
Apple Cider Vinegar – Promotes satiety and can help reduce belly fat.
Chromium Polynicotinate – Naturally assists the balance of blood sugar levels.
Hear what others are saying about Slender Hemp:
"Slender Hemp helped me achieve a total transformation over the last year. I was recovering from an accident and had gotten really out of shape.
Now, I fit back into my old clothes and have the energy to get out there and really enjoy my life. Thanks Liv Labs!"
— John B.
"For years I struggled with feeling satiated after a meal and would feel constant peaks of hunger throughout the day. I knew it was emotional and stress related. I gained weight which induced more stress and it became a viscous cycle. Slender Hemp balanced my appetite and cravings, leveled my mood and increased my energy level."
— Pearl P.
" I drink Slender Hemp in morning & energy, focus is fantastic! I joined the 90 day challenge end off last year & lost 24 pounds & it is staying off! In jeans I haven't fit into in years!"
— Lisa O.
These statements have not been evaluated by the Food and Drug Administration. This product is not intended to diagnose, treat, cure or prevent any disease.This content is for informational and educational purposes only. It is not intended to provide medical advice or to take the place of medical advice or treatment from a personal physician. All viewers of this content are advised to consult their doctors or qualified health professionals regarding specific health questions. Neither Dr. O'Connor nor Liv Labs the publisher of this content takes responsibility for possible health consequences of any person or persons reading or following the information in this educational content. All viewers of this content, especially those taking prescription or over-the-counter medications, should consult their physicians before beginning any nutrition, supplement or lifestyle program.